One Election, Two Solitudes
Introduction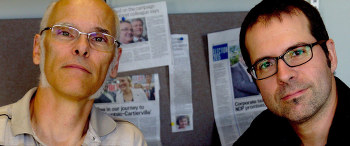 There exist two quite different media coverages in Quebec, based on the English and French languages. To the extent that each linguistic culture is exposed to, and sensitive to, different issues, the media reflects this difference. Conversely, differences in media coverage are reflected in the culture.
To better understand media coverage in each other's language, Tom Robinson (anglophone) and Miguel Tremblay (francophone) took the pretext of the 2015 electoral campaign to exchange articles in their respective mother tongues.
The project's announcement and methodology were published at the beginning of the campaign on the Hors des lieux communs blog.
Articles
Links in the table point to the versions found on the Internet Archive instead of the ones found on the original media. We took this decision so that the article is available as it was on the original publication date, and to ensure its continued availability no matter what happens to those orignal media websites. Of all the websites visited throughout the project, only those from Trans-Canada and the Globe and Mail block Internet Archive from retrieving their contents. For those cases, we put the original link to the articles.
| Date | Fr | En |
| --- | --- | --- |
| 15/08/13 | | |
| 15/08/14 | | |
| 15/08/15 | | |
| 15/08/16 | | |
| 15/08/17 | | |
| 15/08/18 | | |
| 15/08/19 | | |
| 15/08/20 | | |
| 15/08/21 | | |
| 15/08/22 | | |
| 15/08/23 | | |
| 15/08/24 | | |
| 15/08/25 | | |
| 15/08/26 | | |
| 15/08/27 | | |
| 15/08/28 | | |
| 15/08/29 | | |
| 15/08/30 | | |
| 15/08/31 | | |
| 15/09/01 | | |
| 15/09/02 | | |
| 15/09/03 | | |
| 15/09/04 | | |
| 15/09/05 | | |
| 15/09/06 | | |
| 15/09/07 | | |
| 15/09/08 | | |
| 15/09/09 | | |
| 15/09/10 | | |
| 15/09/11 | | |
| 15/09/12 | | |
| 15/09/13 | | |
| 15/09/14 | | |
| 15/09/15 | | |
| 15/09/16 | | |
| 15/09/17 | | |
| 15/09/18 | | |
| 15/09/19 | | |
| 15/09/20 | | |
| 15/09/21 | | |
| 15/09/22 | | |
| 15/09/23 | | |
| 15/09/24 | | |
| 15/09/25 | | |
| 15/09/26 | | |
| 15/09/27 | | |
| 15/09/28 | | |
| 15/09/29 | | |
| 15/09/30 | | |
| 15/10/01 | | |
| 15/10/02 | | |
| 15/10/03 | | |
| 15/10/04 | | |
| 15/10/05 | | |
| 15/10/06 | | |
| 15/10/07 | | |
| 15/10/08 | | |
| 15/10/09 | | |
| 15/10/10 | | |
| 15/10/11 | | |
| 15/10/12 | | |
| 15/10/13 | | |
| 15/10/14 | | |
| 15/10/15 | | |
| 15/10/16 | | |
| 15/10/17 | | |
| 15/10/18 | | |
| 15/10/19 | | |
Post-project comments